Our third DWS 2019 took place at the charming We+ premisses, located it the popular cultural center Kaapelitehdas, in the Helsinki district of Ruoholahti.
The agenda for this inspiring Friday was a Boot Camp where Unique Value Proposition and Prototyping were the goals of the day.
We started the morning with a reflection and a discussion on Sprint 2, where groups could share their ideas, their findings, talk about the identified problems, possible solutions, and if they considered themselves on the right path for solving the case they are working on. This critical reflection and possibility to get feedback from the other groups and colleagues was very enriching.
Then lectures began.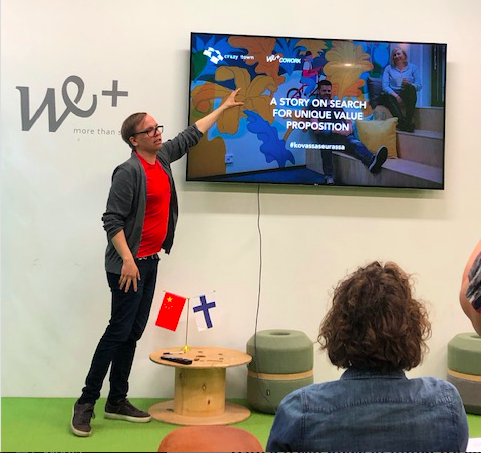 First speaker of the day, Toni Pienonen from We+, introduced the idea of the business community the company has established as its mission. He talked about innovation and new ways of working; how outdated the corporate style is becoming, and how fruitful and out of the box working styles led by entrepreneurship and community leadership are becoming. How powerful networks created in this kind of environment can be was main message from Pienonen.
He also prepared an exercise where our attendants had to sketch the initial solution idea for their case problem, highlighting the core idea in one sentence and in a visual way; a type of exercise which has all to do with a sprint. Great practice!
Pienonen´s lecture was filmed so it can be watched in our official Facebook page.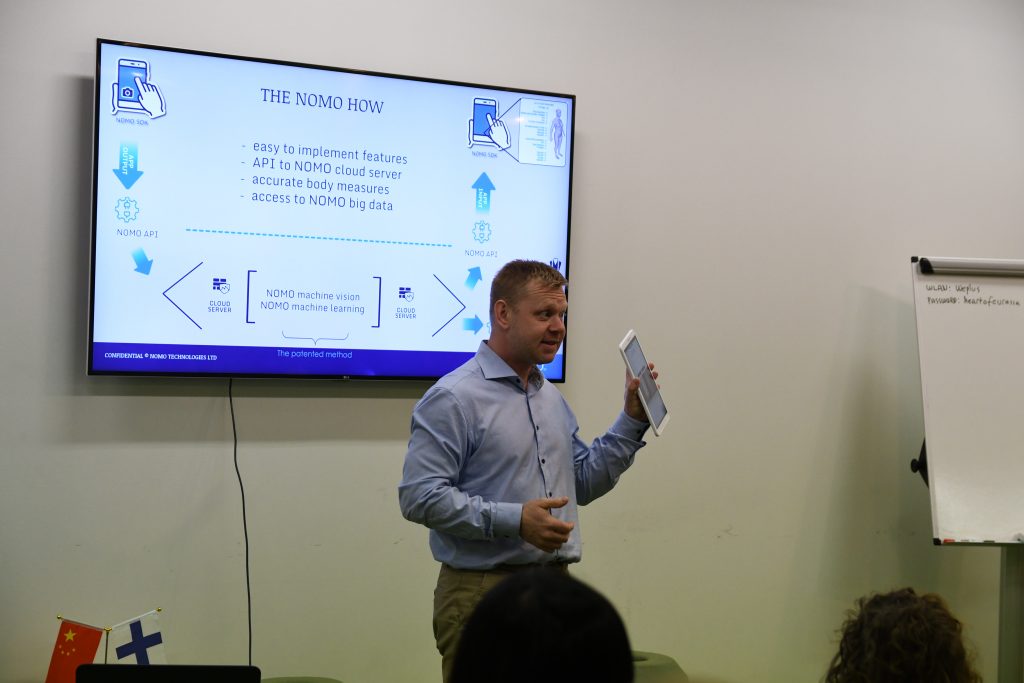 Second speaker: Johan Wirta, the CEO of Nomo technologies. Nomo developed a toolkit for application developers with a patented measure method. The intention is to solve the problem of an accurate measuring method, that could be used for people at home, in order to make it easier and minimize the troubles of wrong sizing in online clothing purchases. It was very nice to hear from an experienced entrepreneur how he chose his path towards the online industry of clothing, and the whole process of finding a solution which solves problems either for the consumer and the businesses.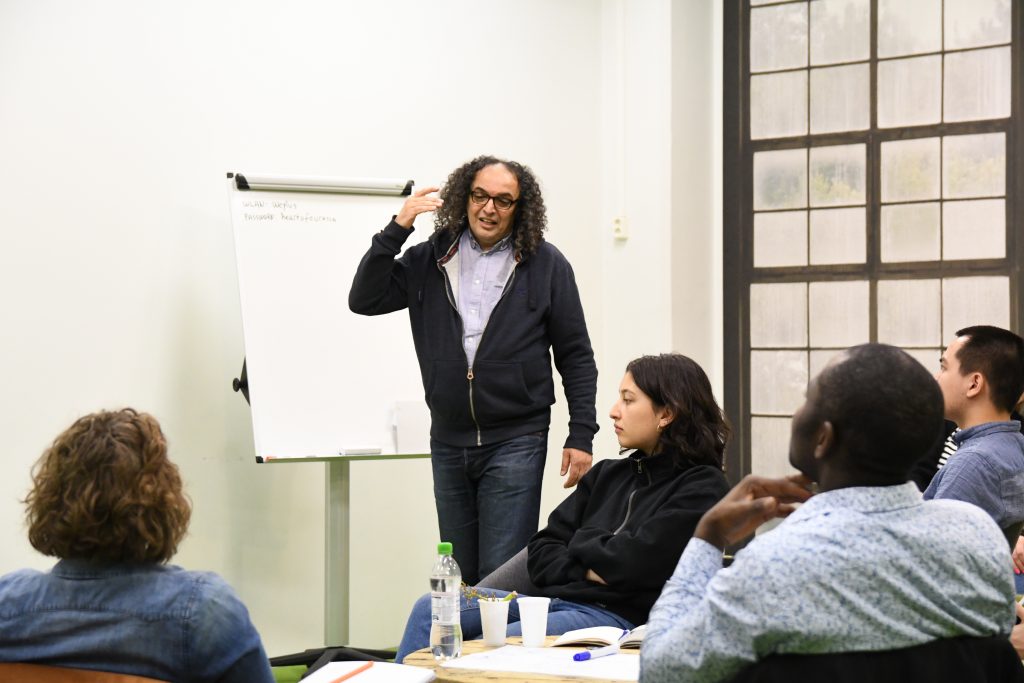 Then it was time to have fun and feel inspired by our third speaker, Israeli/Finnish game developer Aviv Ben-Yehuda, CEO and founder of Big Ear Games, an app which allows you to make music while playing and having fun, in a simple way, friendly to every one. He talked about the importance of prototyping and testing ideas as early as possible since this is the best way to get honest feedback from the consumer, and find out if you should or not invest in that. According to him, this validation is the breakthrough of every idea and will allow you to find if you really have a value. The importance of networking, of listening to advisors and talking to investors was also mentioned as well as how much you can win from internships and volunteer work, even if for a while you accept to it without a salary. During our learning process, the most important thing should be the learning opportunities and how real they are.
Fourth speaker of the day: Thorbjorn Warin from Windoora. He gave several important advices talking about the future of business and the path his company has chosen to trail. The increasing importance of data for any business which needs to deal with media at any point is the most important thing to develop and pay attention to.
After these 4 inspiring presentations where we could listen to experiences coming from outstanding entrepreneurs with a lot to share and say, we started our workshop on Futures Thinking. Time to burn our brains a bit – but in a good way, of course – practicing the process of thinking about possible futures using megatrends, and the concept of utopia and dystopia. Using our creativity, our knowledge, our hopes, and, why not, a bit of our fears, we created headlines on chosen megatrends for "news from the future": an utopia and a dystopia, since one of the most important part of finding solutions, is also to consider what could go wrong even if everything seems to go well.
And that was it! Now there's a lot to think about and get ready for the next Boot Camp.
Writer: Maila-Kaarina Rantanen