Digital Wellbeing Sprint 2020 – my key takeaways
This writing is to reflect on the learnings that I received when participating the Digital Wellbeing sprint organized by Haaga-Helia, Laurea and Metropolia universities of applied sciences. We had 8 sprint teams with 6 challenges from companies. My role as a tutor in the sprint was leaning towards writing blogs and articles. On top of this, I participated into 2 days as a facilitator.
Sprint process
In the sprint, we used the Google sprint methodology created by Jake Knapp to give the overall structure for the sprint. My awesome colleagues in the sprint made a great work by putting all the pieces and tools together to finally give the form and shape to the sprint days. This was a heavy duty. Already in the first day, I realized that getting a group to innovate in an online setting is more demanding that in face to face meeting. I also wrote some thoughts on this to my previous blog, which you can read here.
The process of the sprint is straight forward and fast. Best ideas need to be selected and decisions on directions need to be made. Decision making is an important aspect of a sprint. Tasks are completed in a short time span and steps are following each other. From the end results and also feedback from our students, I could also see that the groups that were able to do decisions had the biggest rewards. This required the role of the decider to be clear. In most of the groups we happily saw that our commissioning companies were present and willing to help and offer those golden decisions along the way to keep the sprint moving smoothly.
On top of the sprint process, there was a clear emphasis to bring in good inspirational speakers to bring additional content and understanding from the health and wellbeing area. These were very successful and were well received by students. In the sprint, also communication was emphasized, and I wrote 2 blogs and 2 articles to LinkedIn. Additionally, a communications trainee wrote reflections about the sprint, and a tutor colleague made blog writings. For the future, it is important to have the writings to make this great project known and appealing to future students and tutors.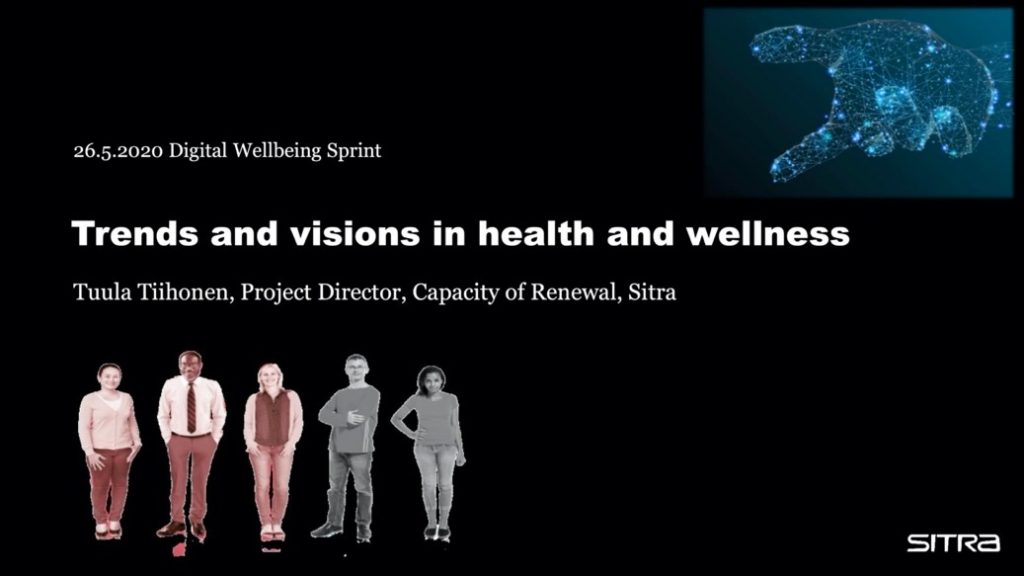 Tuula Tiihonen from Sitra gave the group an inspirational speech during the sprint
Business meets service design
Already in my previous writing, I took up the delicious crossroads of service design and business. Service designers are helping and consulting organizations and companies in innovating and improving services. On top of this, I feel that it would be important for companies to also have design thinking embedded in their organization. In the most cases, this would mean, having customer in the centre of their thinking. In companies, service operations should be seen from the perspective of the customer and the company. Embedding this dual thinking to companies would make a big difference in customer centricity and customer service in general. In my blog writing about Päivä Salo, ICT and marketing director of Pohjola Hospital, this view was taken up. Pohjola Hospital uses service designers in their projects but are also driving the customer centricity in their day to day work. This makes all the difference and has made Pohjola Hospital thrive. Read the blog from here.
Virtual facilitation
I have some experience in facilitating. When studying the area, I came across a list of to 10 skills that we need in the future to do our jobs. This list (below) is full of people and collaboration skills, and this is why I want to learn all that I can to be able to be a good facilitator. This is also a topic, like design thinking discussed in the previous paragraph, that should be on the list of all companies and organizations.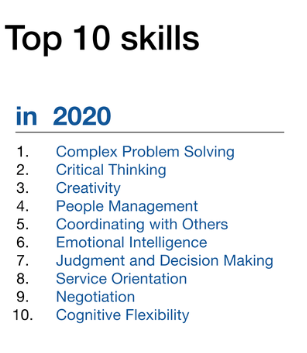 Top 10 skills in 2020. Source: Future of Jobs Report, World Economic Forum
During our sprint, yet I was present only for 2 days, I did feel moments of pondering. What do say to the group, where to guide the group and most of all, what are the right questions to ask the group to make them find the right path. These were times I would pop into our Zoom tutor -room and ask my colleagues for advice. To be able to practise the skills needed in the future was a great learning opportunity for me.
Thoughts about the sprint
Like all other group works, this also pulled the team together and made everybody feel to have a collective goal. Our tutor group consisted of 6 tutors and was very professional. This all created the tutor group and sense that they can focus on what they do best. The experience was a great learning opportunity for me in facilitating, design sprint and also writing.
I would like to thank the great tutor group Cecylia Kundera, Salla Kuuluvainen, Henriikka Tikka, Michelle Sahal Estime and Pirjo Valpas. Also the teachers Teemu Ruohonen, Päivi Mantere and Merja Lahdenperä who made this possible. Our project manager Heini Heinonen was excellent in her role and kept it all together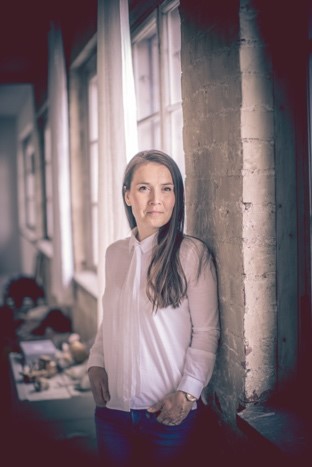 Writer of the blog is Hanna Lumenkoski, an MBA student in Haaga-Helia. She is a facilitator in the Digital Wellbeing Sprint 2020 and holds a position in marketing in the sector of information management solutions. She is also immensly interested in improving customer experience and success of businesses through design thinking.