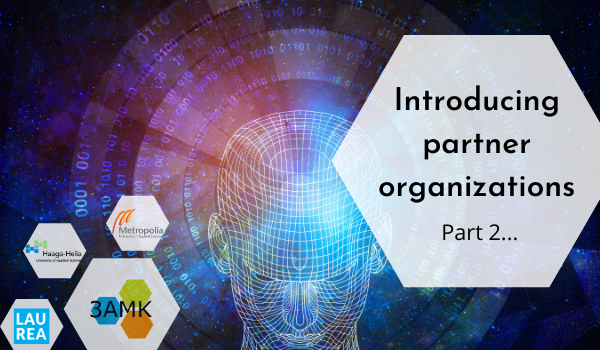 We are happy to announce the remaining partners for the Digital Wellbeing Sprint 2021! Which partner would be the perfect match for you? 👀 👀 👀
Seniors in Shape project
The Seniors in Shape project aims to maintain the physical functioning of senior citizens. The goal of this publicly funded project is to unify and develop the welfare and sports services in different areas of the Helsinki Metropolitan Area to better meet the needs and expectations of senior citizens.  The project is run by 3UAS (Metropolia, Laurea and Haaga-Helia).
Digitalization affects the senior population as well. It is important that services take into account the needs and wants of elderly people as users as well. With this partner, the students will get an opportunity to develop the usability of the Helsinki Service Map user interface.
"We expect to have a draft of the Service map UI with better usability and visually improved design for senior users. The proposals will be taken into account this year when an update of Service map is run. Better usability is essential in finding the sport and wellbeing activities – so important after this long period of staying indoors" the Seniors in Shape team says.
Would you like to improve your skills in UI and usability and make an impact on the Service Map of our capital? Join Seniors in Shape in DWS2021!
Hivpoint, The Finnish HIV Foundation
Hivpoint is joining this year's Digital Wellbeing Sprint! They wanted to try new ways of approaching challenges and the Digital Wellbeing Sprint felt like a good way to do that.
Hivpoint is a non-profit organisation founded in 1986 that promotes health, wellbeing and equality for people affected by HIV. Their focus is not only on people living with HIV but also their families and loved ones, as well as any other people that are concerned or have questions about HIV. Hivpoint raises awareness about prevention of HIV infection, provides testing services, as well as counselling and other support services related to HIV and sexual health.
Students will be offered the opportunity to work with an interesting challenge that can have a great impact on peoples' lives. Would you like to be part of a project that helps people take care of their sexual health? Join Hivpoint at Digital Wellbeing Sprint 2021!
What does Hivpoint expect from the sprint? "We expect inspiration and ideas outside the box – something to help us go further with the project." – says the Hivpoint team.
Coach4Pro
Coach4Pro Oy is a Finnish software company that is providing a service digitalisation solution for health, wellness and sport coaching companies. Coach4Pro is a flexible software platform that allows service providers to improve efficiency and scale their business while managing the service quality.
With Coach4Pro, a company can plan and create their service, and follow clients' progress regardless of time and place. The company has been developing the customer onboarding process systematically for one year now and introduced major changes in April.  
Are you ready to take up a challenge of improving customer experience at a SaaS? Here is one of many reasons for you to join Coach4Pro:
"Selling software as service (SaaS) is one of the key trends. Coach4Pro platform is in core of the service digitalisation trend of preventive health industry. These two issues invite students to a unique pressing challenge" – says the Coach4Pro team.
Hublet
Hublet is a Finnish innovation that enables digital services in different segment areas such as libraries, hospitals, senior homes, restaurants and science centres. Hublet Solution contains a user- friendly cloud-based Hublet Manager – management software, Hublet Tablets and Hublet Smart Docking Station. Hublet is a customized learning tool, communication device and entertainment center in the same package; an innovative, shared tablet solution that ensures easy, private and safe access to the digital world.
The company is in the process of developing a totally new digital solution for the healthcare sector. Would you like to take part of that development and challenge your thinking on how digital devices can be used in the future to provide better healthcare services? Join Hublet at Digital Wellbeing Sprint!
"We have been part of the digital wellbeing sprints for two years now and have been very pleased with ideas and work that the students have been able to provide", the Hublet team concludes.
Now that all the partners have been introduced, you can expect to see the actual challenges soon too! Stay tuned….